As Brantley Gilbert once said "Country must be country wide" and as one of America's biggest music genres that sure holds true. Country music fans and singers come from all parts of the US. So we here at Southern Sky have decided to come up with a list of the top 10 states for country music.
10.) Missouri–  Home of two of the most well known female country singers in recent memory, Sara Evans and Sheryl Crow, Missouri is a well deserved spot on this list. Missouri doesn't only have girl power though, as it is also home to David Nail, Tyler Farr, and Chris Janson. Missouri just barely edges out Kentucky and Louisiana on our list thanks to it's many country themed shows in attractions in Branson.
9.) West Virginia– This state is a living country song, filled with hard working down to earth people just trying to get by which is a big reason it made it on this list. It also the inspiration of the classic country song "Take Me Home Country Roads". Brad Paisley also hails from this state.
8.)North Carolina– Having so many young rising stars ie: Luke Combs, Chase Rice, Chris Lane, Scotty McCreery, NC is a state that could rocket up this list in future years. Not only does NC contain young guns though, it is also home to legends like Eric Church, Charlie Daniels, Ronnie Milsap, and Randy Travis.
7.) Arkansas– When Johnny Cash hails from your state you know you're making it on the list. Arkansas isn't a one man show though as it is also home to Trent Tomlinson, Joe Nichols, the late great Glen Campbell, Tracy Lawrence, and Justin Moore.
6.) Alabama– 'Sweet home" and "Dixieland Delight" put Alabama on this list but not quite high enough to crack the top 5. Alabama may not have a great quantity of country singers but it certainly makes up for it with it's quality as it's home to two of the greatest country musicians of all time Hank Williams and  Alabama.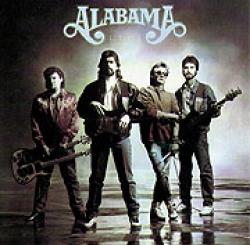 5.) Mississippi– Mississippi is the heart of the south and the south is the heart of country music, so it's no wonder they made it on this list. Home to "Mississippi man" Conway Twitty, Faith Hill, Chris Ledoux, Charley Pride, and Jimmie Rodgers Mississippi has no shortage of country legends to call it's own.
4.) Georgia– A state that would've never been on this list a decade ago, now finds itself in the top 4. How did this happen? Well you can thank it's exploding music scene that has produced superstars like Luke Bryan, Jason Aldean, Brantley Gilbert, Cole Swindell, Kip Moore, Sam Hunt and Tyler Hubbard (FGL). Georgia isn't all new faces though as it also is home to Alan Jackson, Rhett Atkins and Trisha Yearwood
3.) Oklahoma– "Texas's hat" recently topped a list as the state most like a country song and I have to say that seems pretty damn accurate. Many stars have come out of the flyover state including American Badass Toby Keith, Carrie underwood, Vince Gill, Blake Shelton, Rae Wylie Hubbard, THE Garth Brooks, Reba McEntire, and Joe Diffie to name a few. More than that though is Oklahoma's alternative "Red Dirt Country" scene which puts them so high on this list.
2.) Tennessee– Nashville is the capital of country music but that's still not enough to rocket Tennessee to the top of our list. Dollyworld gives it another great country attraction and it's home to a dozens of great musicians but…
Texas– Nashville may be the capital of country music but Texas is it's heart and soul. It's possible we wouldn't even have country music without Texas as so many legends hail from the state. There's Willie Nelson, George Jones, Waylon Jennings, George Strait, Bob WIlls and much more. What put Texas over the top is it's very own "Texas Country", which has cranked out its own heroes and legends like Pat Green and Robert Earl Keen. It seems everything really is bigger in Texas, especially country music.